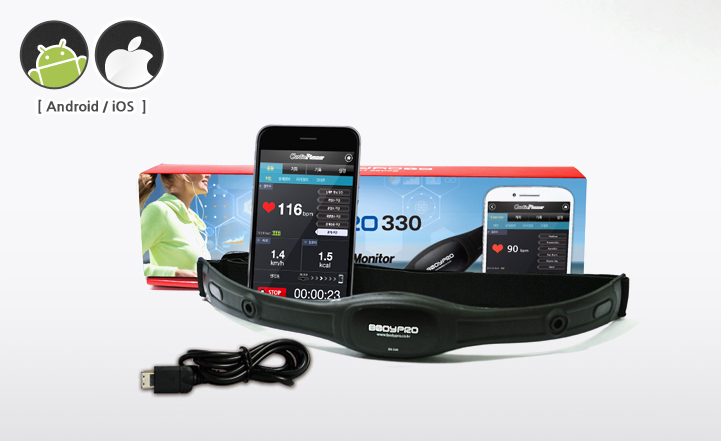 Bodypro 330 (Bluetooth 4.0 supported)
Bodypro330 is a mobile heart rate monitoring system which should be used with your Android smart phone. It can enable users to measure and analyze the results of workout such as heart rate data, calorie expenditure, step counts, speed and stress in real-time. When you use the Bodypro330, you need to download "CardioPlannerPlus" app with your Android and IPhone smart phone. Users could understand their heart rate, stress and workout better by using Bodypro 330, so get a physically effective result after several uses.

CardioPlannerPlus provides the information of Route(Google or Apple Map), activity Calorie, intensity and speed during exercise by monitoring heart rate(Heart Rate transmitter (Bodypro330) required) and moving activity(via 3-axis acc chip) in real time. And users could make their own exercise plan according to weight loss (Diet) target and monitor progress of the achievement rate of the target and the remained calories in the plan. Moreover, stress test function is included, so provides automatic nerve balance and physical/mental stress level. Without Heart Rate transmitter (Bodypro330), CardioPlanner will be used for Steps, Calories, Speed and Route.

To get all functions (heart rate and stress check), user need to purchase Heart Rate transmitter (Bodypro330). It is a smart health care and mobile health care system, anywhere at any time you can check your activity and stress level simply.

Key features
1. Provides ECG-accurate heart rate on Android mobile training app (CardioPlannerPlus).
2. Bluetooth 4.0 (For Android 4.3+ / Iphone 4S+ & iOS7+) supported.
3. Using rechargeable battery and continuously operating for 20 hours.
4. Only weighs 79g (2.8 ounce), smartly adapts to your body shape.
5. Display the exercise information is real-time.
6. Voice guidance function.
7. Setting for exercise plan.
8. Exercise history management.
9. Personal physical information management.
10. Display the exercise intensity by Heart rate zone.
11. Measure heart rate, Calorie, moving speed, steps, moving route and exercise intensity.
12. Measure physical and mental stress.
13. Include USB charge cable and quick user manual.

Used to
CardioPlannerPlus can be applied to personalized exercise prescription through the heart rate, stress, distance, calories measurement for improving health in Personal health care/diet, sports centers and sports medicine centers such as professional sports organizations.

In the box
1. Heart rate transmitter (Bodypro330)
2. Strap
3. USB Charger
4. Quick Manual & Guarantee
5. "CardioPlannerPlus" Application program
※ It could be downloaded from Google play store for Android or from Apple store for IPhone.
(Cf. Support for Iphone 4S+ & iOS7+)
Specifications
Measurement Items

Heart Rate, R-R interval

Measurement Method

Chest belt type ECG Transmitter

Measurement Range

40 ~ 240BPM (Bit Per Minute)

Accuracy

<±1BPM(@HR 100BPM less), <±1%(@HR 100BPM over)

Sampling Period

1KHz(1ms)

Power Supply

Li-Polymer 3.7V (470mA), Rechargeable battery

Continuous Operating Time

Average 80 hours

Charging Time

Max 5hour (@USB cable), Max 2.5hour (@TTA 20PIN Charger)

Communication Method

Bluetooth 4.0 (Bluetooth Low Energy)

Frequency Band

2.4GHz

Reception Range

Average 10m

Antenna Type

Internal

Dimensions

288(L) x 38(W) x 16.6(H)mm

Weight

62g (transmitter), 17g (a strap)

Type of Strap
(chest size)

S : 53~86cm(21~34inch), M : 60~99cm(24~39inch)
L : 66~116cm(26~45inch), XL : 77~150cm(33~59inch)
Packing & Weight
Dimensions

Package

30(L) x 8(W) x 6.0(H)cm

Inner box

31(L) x 9(W) x 7.0(H)cm

Weight

Package

0.25kg (8.81 ounce)

Inner box

0.33kg (11.64 ounce)